Rolling Road with full diagnostic facilities
Our 500bhp Sun RAM 3000 rolling road installation includes sophisticated diagnostic and data acquisition systems, providing accurate power and torque curves with full temperature and barometric correction. The system also provides detailed data printouts for the customer. See the sample data log, which was produced for an e-Type Jaguar.
These dedicated test facilities are supported by enthusiastic technicians with a wide knowledge, who are able to obtain the very best from your engine whatever its type - from a standard road unit to full race-spec. A correctly set up engine can only be achieved on a dynamometer, where fuel and ignition settings can be optimised for that particular engine.
On completion of the work, you will receive a printed test data sheet showing power, torque and CO figures. A power and torque graph shows the power and torque figures across the RPM range both before and after tuning has been carried out, enabling you to see the level of improvement. Equally, or perhaps more important is that you can see where the optimum power and torque levels are across the RPM range.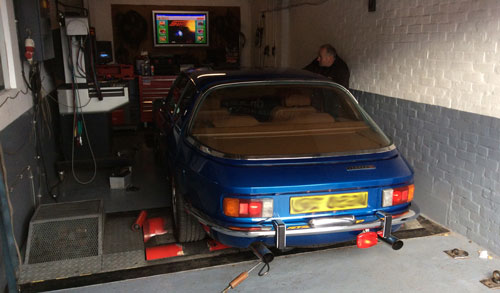 A Jensen Interceptor on the rolling road
We now offer rolling road shoot-outs for clubs and groups. Prices to be negotiated based on the the number and type of vehicles.
We also provide engine management mapping for diesel and petrol engines.
More pictures and videos on the Pete Morgan Racing Facebook Page